It takes a village to raise a child and we are yours! VillageOSHC partners with schools Australia-wide to keep children safe and happy outside school hours as parents work or study. We specialise in providing low cost, guilt free and super fun OSHC programs.
In our care, children make new friends, build on old friendships, get exercise, eat healthy food, embrace their imagination, and have loads of fun in a safe and respectful environment.
Operating Hours
6:30am – 8:30am
3:15pm- 6:15pm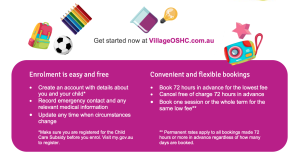 THE JOURNEY THROUGH TERM 2 IS ALMOST OVER!