'Parents have a particularly important part to play in the educating community, since it is to them that the primary and natural responsibility for their children's education belongs'. 
(The Catholic School on the Threshold of the Third Millennium. 1997)
---
Our vision of learning and revelation is emerging as students, families and school staff work in partnership to support every child to achieve success.
This learning relationship we call:
Learning by the Power of Three (Learning3).
"…the quality of the relationship deeply influences the hopefulness required to remain curious and open to new experiences, and the capacity to see connections and discover meanings."?
(Salzberger-Wittenberg et al. 1983: ix)
---
At Good Samaritan we don't just enrol a child; we enrol the whole family!
When a child's learning journey begins at Good Samaritan, a strong partnership is formed between families and the school to ensure the learning that takes place is of the highest quality.
This partnership has the greatest impact on student learning and wellbeing when the relationship between families and our school is strong.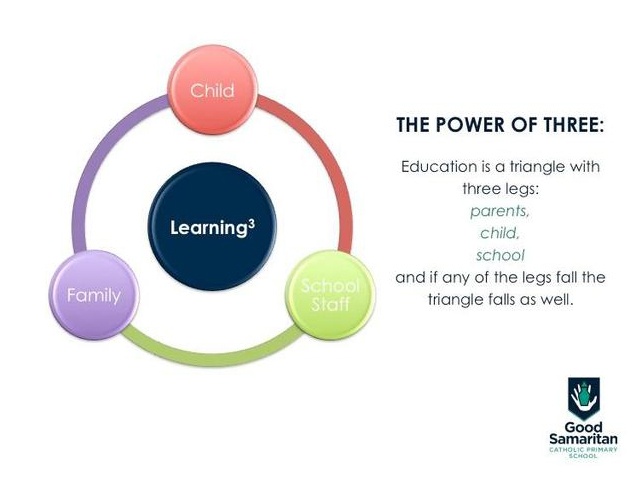 At Good Samaritan we believe that parent engagement is developing relationships with the primary caregivers of students to empower them as active partners in their child's learning.
We are committed to:
Building community and identity
Consultative decision-making
Family Learning Conversations
Connecting learning at home and at school
Recognising the role of the family
Collaborating beyond the school
Home visits